Adventures in Sock Knitting, Episode One - Vanilla Socks and Beginner Mistakes
Good morning!
I am ridiculously excited to introduce the first topic series of 2018. Today is also the day that the blog launches and my goodness I am nervous! It was all well and good writing posts during January and not publishing them but they're all there now, ready to be read and - hopefully - enjoyed.
Anyway, I digress. You're not here to hear about my nerves and excitement, you're here to hear about socks - so let's dive in!
I am not a completely new sock knitter - my first pair was actually made almost six years ago from some commercial sock yarn that I was gifted as a birthday present. I used the 2 circular needle method (more on methods later) and a vanilla sock pattern and it took me AGES. In fact, the second sock langished for months waiting for its toe and I have no idea why.
However, last Summer I discovered Indie-dyed yarn. I was under the weather, and in need of cheering up so I decided to treat myself to a suprise box from indie-dyers Truly Hooked and Dye Candy, who were doing a Guardians of the Galaxy collaboration. By this point I was really into podcasts (check out my podcast review next week) and had realised that most people prefer sock-weight aka fingering weight yarn and so this is what I went for because, my dears, you aren't just restricted to knitting socks. Oh no. This sock-weight yarn is perfect for all sorts of things including jumpers and shawls.
So, the box arrived and now I had three skeins of gorgeous hand-dyed yarn. The two from Truly Hooked went together perfectly but the one from Dye Candy needed to be a project all on its own.
Why did I choose socks?
Well, there are a number of reasons for this - the first being that I had one skein and there aren't actually all that many one-skein-wonders out there. The second reason is once againt to do with podcasts. All the podcasters I was watching seemed to be avid sock knitters. Kristin from Voolenvine Yarns (the Yarngasm Podcast) was having a year-long knitalong for socks; Amber (Yarn Hoarder) was on a year-long mission to "Free all the House Elves"; Amy (Stranded Dyeworks) was incredibly proud of her hand-knit socks collection and I wanted in on the action. Socks also have the advantage of being small and relatively quick to knit (if the podcasters are to be believed) and as I've already alluded to, I have a VERY short attention span when it comes to....Oooh squirrel!
Okay, so why didn't I start straight away?
Two reasons for this. 1) I didn't have sock needles (more on that in a bit) 2) I knew I wanted to join in with the knitalongs and wouldn't get 12 pairs done by Christmas so I wanted to wait until January 1st 2018 to ensure that my hard work counted.
Alright, the third reason was that I was scared. Socks seemed complicated and I couldn't remember enjoying knitting the first pair. So I put it off and put it off.
Okay, enough back story, let's get into the sock knitting itself. Future episodes will cover types of yarn, different methods of working the sock, different needles and patterns etc. but for now I'll start with some basic terminology and some of the mistakes I made as a beginner.
Some Sock Terminology
Vanilla Socks
- this sounds fancier than it is! Vanilla socks are, quite simply, totally plain. Just knit in stocking stitch (stockinette if you're in the USA) with ribbed cuffs.
Cuff
- self-explanatory - the bit of the sock that holds them up on your legs! Need to have a little negative ease to ensure they fit.
Ease
- not an exclusive sock term but a general term for sewing or knitting. Ease refers to the difference between the garment and the wearer. If a garment has negative ease, it stretches to fit the wearer - leggings are a prime example of this. If it has positive ease, it's bigger than the wearer. Pyjamas tend to have positive ease (at least in my experience).
Cuff Down
- the socks are knit from the cuff downwards to the toe.
Toe Up -
the socks are knit from the toe up towards the cuff
Heel Flap
- the part of the sock that goes over the back of your heel - often knit in a way to reinforce the heel as this is where a lot of wear and tear naturally occurs on any sock as it rubs against your shoe.
Turning the Heel
- this bit of knitting is just magic. It creates the shaping that brings the knitting under your heel, hugging your foot. Amazing!
Gusset
- Funny story here...just last night I was discussing sock knitting with fellow sock-virgin Claire (the gorgeous gorgeous friend responsible for the technical knowhow behind mapping my domain and the stunning photography you'll see on Etsy and on my knitting patterns as well as on here - it's pretty obvious which are her photos and which are mine!) and innocently said "I got rather over-enthusiastic when working on the gusset" to which the whole room of friends burst into a chorus of laughs, snorts, sniggers and the odd choking noise (we were eating dinner at the time).
The gusset of a sock is the part that joins the instep to the heel, bringing it together to the foot. It often looks triangular. See the image below for the parts of a sock (copyright about.knitting.com)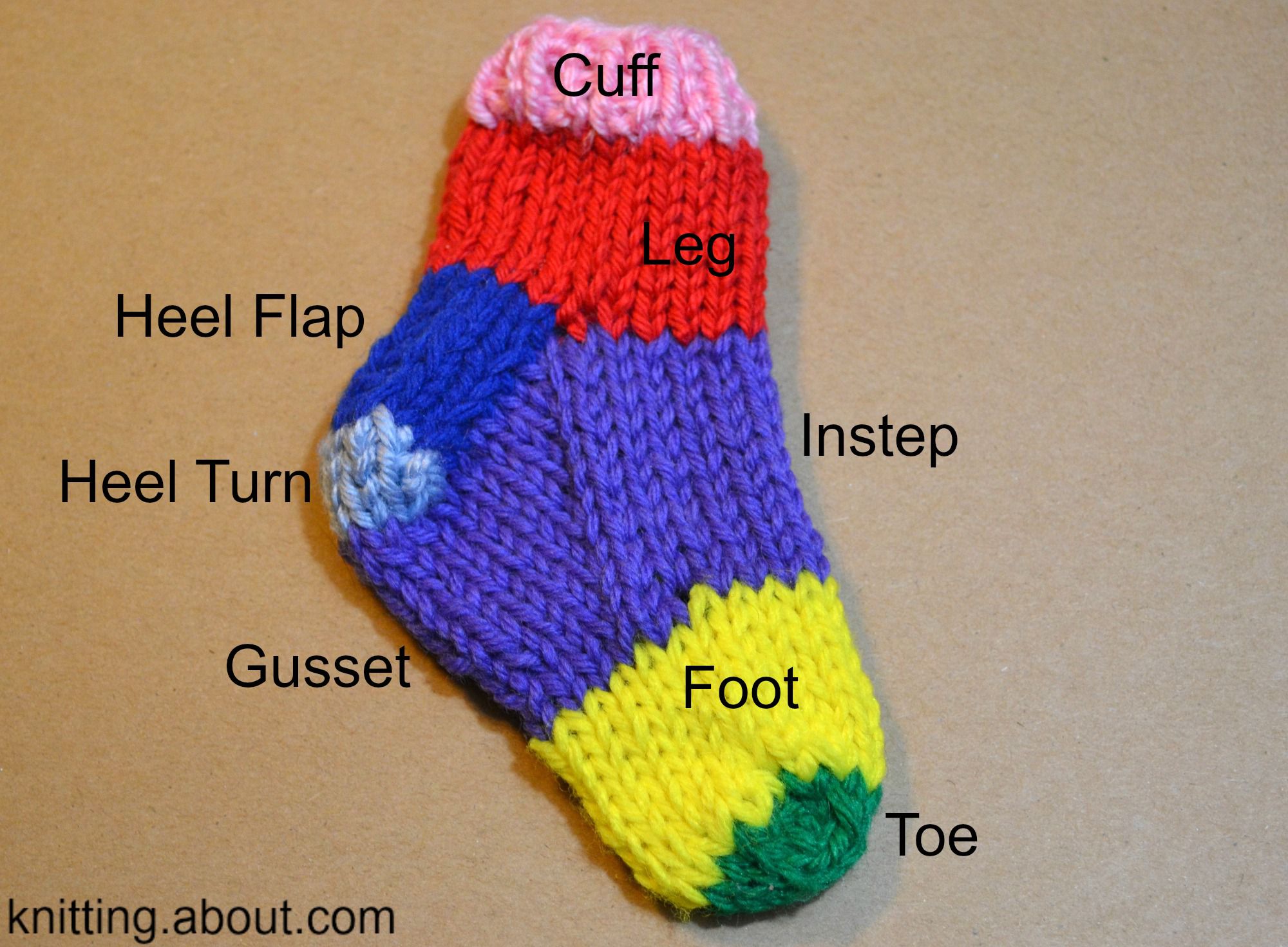 Kitchener Stitch
- a nifty little bind off that grafts the toe together (you're essentially knitting a tube when knitting a sock and obviously you need to close that tube otherwise you'd have cold toes!) in such a way that it's reinforced and sturdy - perfect for preventing wear and tear. It also doesn't create an uncomfortable seam against your toes. Where did it get its name? Lord Kitchener
My First Pair of Socks
Ta-dah! Here, readers, is my first pair of socks. Aren't they beautiful??? I'm super proud of them but there were many lessons learned along the way.
Choosing my pattern, yarn, and needles
I chose Vanilla socks - why overcomplicate something? I was already trying a whole load of new things and my capacity for making silly mistakes is legendary.
And opted for the 2 circular needle method. I'd not knit with magic loop on something so small before, and was intimidated by the teeniness of the 9 inch circular needle, and as for DPNs oh my goodness they looked terrifying! All those needles? All those points? Nothing to stop the stitches slipping off the ends? Shudder. The needles I purchased were KnitPro Symfonie Circulars (beautiful!) - slightly expensive at £6 each and you do need 2 for this method.
Yarn - there will be a comprehensive post on sock yarn later in the year but for now I'll whizz through the basics. Socks with a high wool content are comfy (not scratchy - your feet are tougher than you think) and have the added benefit of keeping your toes toasty without making your feet sweat. They can be worn all year round. Ideally you also want a sock yarn with some synthetic content as it provides the yarn with extra strength and durability. If you consider the amount we put our socks through, they need to be tough! Nylon is the most common material used in synthetic sock yarn.
The yarn I used was 80/20 merino wool/nylon. Merino is much softer than Blue-Faced Leicester, but more on sock yarns in a later episode.
Lessons Learned
1) One pattern DOES NOT fit all.
I had a lovely vanilla sock pattern - super simple to follow and I'd used it before. It called for 2 circular needles - perfect - but advised casting on over 2 needles (holding the two needles together so the cast on stitches were loose and easier to work with. I did this with the first sock but discovered that the rib ended up a bit scruffy and also fit loosely around my calf.
You can clearly see here that the cuff is a bit "frilly". It's still pretty, and wearable, but for the second sock I cast on just over one needle and held my tension tighter to create that negative ease.
2) Socks with ladders are not attractive...
Imagine a ladder in your tights - now put that same idea onto a pair of socks. Not good. It's not a tear in socks, but when knitting on 2 circular needles, or DPNs, or even magic loop, a ladder effect can form between the needles when you move the working yarn from one to the next. The first round is often the gappiest.
To avoid this, I cast on an extra stitch (the pattern called for 60 so I cast on 61), and then when I split the stitches over two needles, I slipped the extra stitch from one needle, over the first stitch of the second needle and off so that it literally hooked the two together, forming a tight bridge and closing the potential gap.
3) Don't be afraid to go a little further...
I was very anxious about having socks that were too long and as the pattern called for 2 inches for the toe, I was fastidious about ensuring this happened. That was all well and good but I hadn't accounted for the tension of a nervous knitter and my first sock fits a little snugly on the toe, reason being working the toe takes a set number of rounds and decreases. I've learned to work right up to the base of my big toe and go from there. The second sock fits much better!
4) DO NOT MACHINE WASH SOCKS!
This was a lesson I learned about 5 years ago when I accidentally felted a pair of socks my mum had made me. The wool content in sock yarn means it's not suitable for machine-washing as the heat makes the fibres matt together and you end up, quite literally, with a fabric you'd recognise as felt.
So there you have it - my first pair of 2018 is complete and I'm eager to start pair number 2.
Future episodes:
* Not so vanilla socks - my first attempt at patterned socks
* Toes, feet, gussets, heels - first adventures in toe-up socks
* Choosing a sock yarn - my guide to helping you knit the best socks
* The Kitchener Stitch - demystifying this legendary finish (created by Lord Kitchener during WW1)
* Review: Knitting your Socks on Straight.
* Braving the Sharp Bits - knitting socks using DPNs.
* Caring for your socks